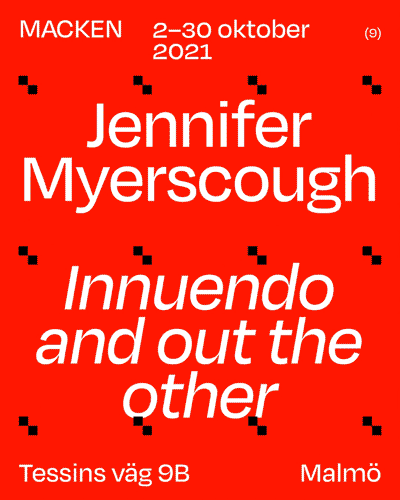 Current Exhibition:
Innuendo and out the other
October 2 - 30, 2021
MACKEN
Tessins väg 9B
Malmö
Press text:
Jennifer Myerscough (b. 1982, SE / US) "paints paintings." She is educated at Umeå Academy of the Arts (MFA 2016), Gerlesborgsskolan, Stockholm, and Art Center College of Design, Pasedena, California. She is active in Malmö. Recent activities: VIDD (Gallery CC, Malmö), HIGHLY TOXIC (Digitaliseum, Malmö), Mörkveden (Malmö Konsthall), NU (Museum Anna Nordlander, Skellefteå).
"By painting, I want to find what I have not yet seen. I paint paintings to look at them. I give them so much time until they start demanding time from me. I tell them what they are until our roles change and they instead start telling me. I want to own the entire vocabulary of all the materials I use. I have created methods for working systematically in my studio. Consistent development. Observing attentively. My focus is entirely on the process."
At Macken you can see @jennifer.myerscough's exhinition "Innuendo and out the other," including "Composition (beach)" which comes from an ongoing series of larger paintings on canvas. These are paintings of studio objects, still lifes. Landscape is a tool. She cuts, folds, bends and tapes prints of landscapes to create objects. Some of them are used as still-lifes for paintings. They become "multiple representations of space" – a compression of the spaces in the images and of the object. Jennifer strives for what can be found in the translations between different types of space.